Lighting Up Metro Detroit!
Lighting Up Metro Detroit!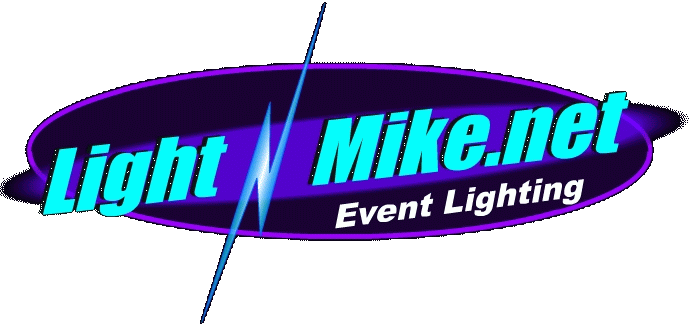 With our DJ Lighting Service we'll be sure to keep your guests on the dance floor all night! We offer multiple lighting effects to create an unique light show for every song. We do not put our lighting on timers and walk away. We control our lighting in REAL TIME. Fast songs require faster moving lights, slow songs need our OUTSTANDING L.E.D lit Mirror Ball; unlike most DJs, who only offer a 30 watt pin spot.
​
Best of all, clients who get our DJ Lighting Services, are offered great discounts on ALL of our other services. ALL of the lighting below is included with this service. We want to make sure your event is as magical & entertaining as possible.

- Click on a pic below to enlarge & see details about each light -

Pricing (Basic Setup): 3 hrs = $240 / 4 hrs = $260 / 5 hrs = $280 / 6 hrs = $300
Nothing needs to be connected to your DJ's system to control our lighting

LightMike.net only provides "L​ighting" services. Check out "Our Friends" page for local DJs.
Dancefloor Lighting Setup -

Basic
LED Par Cans
Colors change to the beat of the music.
12" Mirror Ball w/ LED pinspot
LED Revo 4 (Fast moving light)
256 razor sharp beams that go to the beat of the music. Stunning LED patterns give your venue the feel of being inside a club!
Swarm 5FX (Fast effect light)
Multi colored rays of light, red & green lasers, & strobe lights create one awesome light. We can control what this light does.
Bright 80watt Water Effect Light
Great for slower songs! We have the 80 watt version which is the brightest available
Octopus (Fast moving light)
Pro-Grade HAZE Machine
Must be used to create beams of light for dance floor lighting effects...especially lasers!
Pro Hazer
Fine Fog Effect*
Dancefloor Lighting Setup -

Advanced
Dancefloor Lighting Setup -

Elite Show
LED Blacklight Upgrade
Makes any neon or "Glow in the dark" attire/decorations glow!
Green Starfield Laser
Creates cool effects such as fireworks.
2 Powerfull LED Mega Strobes
Everything in the "Basic" Package
Everything in the "Basic" & "Advanced" Package
Anchor Bay High School Homecoming
Our DJ Lighting Setup
Bottom of Mirror Ball is at 7ft high to ensure your DJ won't bump into any lighting.
Dance Floor Lighting
Basic Setup
(Click to enlarge)
(Animated Projections not included)